What Do I Need to Run a Horse Stable?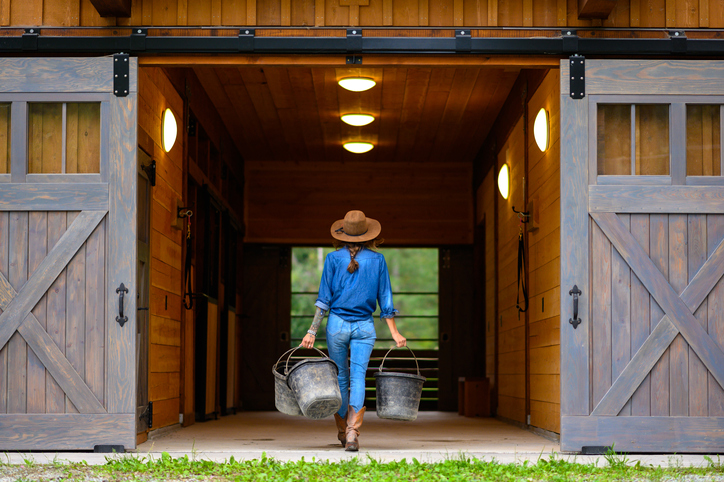 by Aubrey Moore
Maybe you're tired of spending board money every month. Maybe you think you can do it better. Or perhaps, you have some extra land lying around, just begging for a few horses to graze on. Whatever your reason to start your own horse boarding barn, it's going to take more than a pasture and a wish to make your dream become a reality. So if you're interested in learning about how to start a horse boarding business, read on below.
Basic Property Requirements
The first thing you'll want to take into consideration is how much land you have available. You might be asking yourself, "How many acres does a horse need anyway?" It's often said that you need 2-3 acres per 1,000-pound horse, but the truth of the matter is that it's not so much how much square footage you have but how good your plan for it is. The key to a successful boarder program is to have a plan for how you'll use the entire space: consider where your forage will come from (grazing, hay bales, or a combination of the two), whether your land is zoned for farm use, and how you'll manage your waste. By having a well-thought-out management plan, you can maximize the efficient use of your land and get it working for you.
Interested in learning more about manure management? Check out our article on it here.
Once you've decided how many horses your land can support (and how many you're willing to look after), you'll next want to consider how to meet their basic needs. Forage may come in the form of pasture grass, but you'll also want an easy water source and shelter for the horses in case of inclement weather. Your plan can be as simple as providing water via hoses running to troughs and lean-tos to protect against wind and rain, to something as complicated as automatic waterers in the fields and a fully enclosed barn with stalls.
Nice-to-Haves vs. Need-to-Haves
Throughout your business planning process, it's essential to keep in mind that there will be things that are necessary for the well-being of the horse (like food, water, and shelter), and things that are necessary for the well-being of your boarder (such as a parking area, someplace to store tack, and a safe location to ride). It can be helpful to think through a typical day from your perspective as a boarding barn owner and from the perspective of your boarder. What are some absolute must-have elements you'll need to keep the horses in your care healthy, and what are the essential items your boarders will want so that they will choose your barn over the rest?
Once you decide what you have to have, spend a little time brainstorming what might make your life (or your boarder's) a little better. This might be things like a heated tack room, additional water hookups in your fields, a tractor for moving manure and dragging fields, or a wash stall with hot water. These luxuries can range from the simple to the extravagant; you may not be able to provide your boarders with a glassed-in seating area in an indoor arena, but having an outdoor arena with safe fencing, arena lighting, and some comfortable benches may go a long way to attracting clients. Sometimes doing the basic things well can mean more to a potential boarder than a few additional amenities.
Other Requirements
Once you've got a plan together for the physical aspects of your boarding business, it's time to consider the intangibles. First, you'll want an idea of what each horse will cost you and what you'll need to charge for board to cover your costs. Don't forget to consider your barn upkeep requirements as well; fences will need to be repaired, equipment will need to be replaced, and you'll probably want to put some money aside for essential upgrades as you figure out what your barn needs to enhance your boarder's experience. You'll also need to consider the cost of taxes, insurance, and employee wages, as well as any other expenses that might come your way.
Speaking of insurance, it is vital to carry liability insurance for your barn and make sure that anyone on your property has signed a waiver. Insurance can be found through most major agricultural insurers and is usually referred to as "horse boarding insurance." Along with the release, insurance can help protect your business if someone suffers a major accident on your property. You may also consider forming an LLC or separate corporation to run the barn to protect your personal assets if someone files a civil suit against you.
In addition, consider having your clients sign a horse boarding agreement. This can set expectations for when board is due (and how much it costs), the barn rules, and the expectations for the division of labor. For example, if you offer full board, you may also provide blanketing and holding horses for vet calls free of charge. On the other hand, if you offer pasture or partial board, you may expect boarders to muck out, feed, and perform most horse care themselves. Worried about writing a boarding agreement that covers all your bases? We have an attorney-drafted customizable boarding agreement available for purchase here.
Finally, consider whether you will provide trainer services yourself or if you will allow outside trainers in your facility. This may affect the type of insurance you need, and you'll want to establish a horse trainer facility use agreement before allowing anyone else to offer clinics or lessons.
Now that you've got a concrete plan, met all legal requirements, and you're ready to open your doors, it's time to find your boarders! You may advertise via word of mouth, but the best way to connect with your perfect client is through our comprehensive search function at Stable Select. With our website, we can help you find serious horse owners seeking exactly your style of boarding barn in your area.
One last tip: Running a boarding barn involves a lot of moving parts. You may consider using barn management software such as Stable Select to help exchange and keep track of your documents and boarder information, as well as easily collect boarding payments. This type of program can help you step away from the desk and back into the barn where you belong.
Always remember that the real key is to keep your horses (and their owners!) happy, healthy, and safe, and anything else is just an added bonus.
About Aubrey Moore:
Over the years, Aubrey has dabbled in a variety of equestrian activities such as eventing, dressage, Pony Club, and one epic safari ride across Africa. When she isn't busy freelance writing for such publications as Horse Network, she can be found at home with her pony Khali and pony-sized cat, Frankie.